In today's digital age, having a professional portfolio is crucial for artists, photographers, and creative professionals looking to showcase their work to a global audience. A well-designed portfolio can be the key to securing new opportunities and clients. However, building a portfolio website from scratch can be a daunting task, especially for those without web development skills. This is where free portfolio website builders come to the rescue. In this article, we'll explore the top best free portfolio website builders available, helping you create a stunning online showcase for your work without breaking the bank.
Why Choose a Free Portfolio Website Builder?
Advantages of Using Free Website Builders
Free portfolio website builders offer several advantages. They are cost-effective, user-friendly, and equipped with a wide range of templates and customization options. These platforms enable creative professionals to design and maintain their portfolio websites effortlessly. Whether you're a freelance photographer, graphic designer, or artist, these free website builders provide an accessible and affordable solution to get your work out there.
Key Features to Look for in a Portfolio Website Builder
When choosing a portfolio website builder, it's essential to consider certain key features:
Templates: Look for a platform that offers a variety of templates, ensuring your portfolio aligns with your unique style and vision.
Customization Options: The ability to customize your website is vital for making your portfolio stand out. Ensure your chosen builder offers ample room for personalization.
Mobile Responsiveness: In today's mobile-centric world, a mobile-responsive design is a must. It ensures your portfolio looks great on all devices.
Top Best Free Portfolio Website Builders
Now, let's dive into the top best free portfolio website builders available:
1. WordPress
Popular website builder, WordPress, allows you to make a free blog with an independent portfolio page. Although not specifically designed for independent authors, WordPress has over 100 free themes to help you create a distinctive blog and highlight your writing. This is a wonderful fit for you if you desire total creative control over your portfolio. If you wish to highlight your writing and other abilities, WordPress is another option. Let's say you would want a page dedicated to, say, literature or photography. If so, WordPress has a wide range of themes and enough flexibility to let you showcase different types of creative work.
2. Wix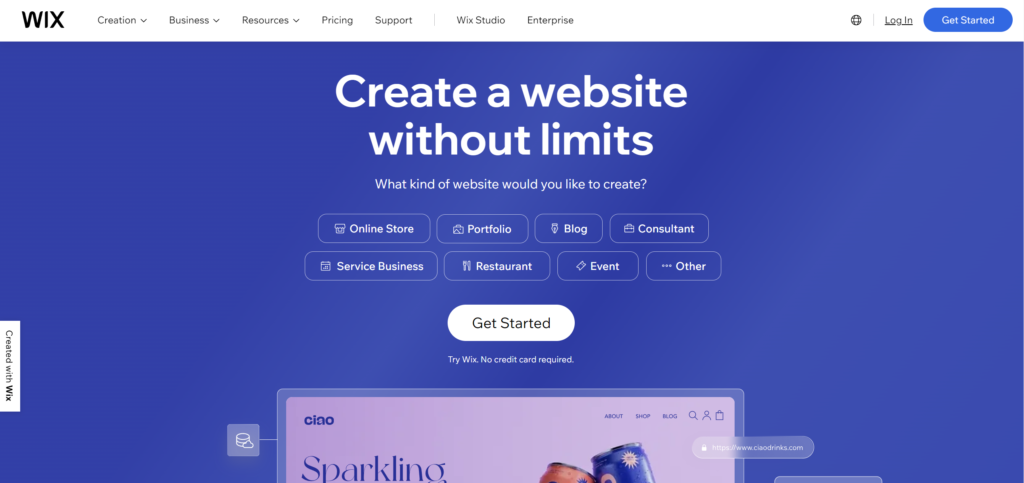 Wix is a versatile and user-friendly platform that offers numerous templates suitable for various creative professionals. It allows easy customization and is known for its drag-and-drop functionality.
3. Squarespace
Squarespace is our top pick for a comprehensive website builder for portfolios. Thanks to Squarespace, anyone can design a beautiful, mobile-responsive website, regardless of degree of expertise. Because of its chic and well-thought-out templates, it's also very well-liked by photographers and painters.
In addition to doing well in the majority of our research categories, Squarespace excels in the areas of design, customer satisfaction, help and support, and ease of use, outperforming all other builders in each of these tests.
4. Siter.io
With the help of the cutting-edge no-code portfolio builder Siter.io, users can create and publish websites without ever writing a line of code. Its user-friendly interface enables freehand design in the browser with familiar tools possible. Siter.io gives you the ability to develop beautiful portfolios that are customised to your own vision, whether you are beginning from scratch or utilising one of their templates.In conjunction with Figma, Siter.io offers a well-liked plugin that can quickly turn your concepts into websites that are ready for launch. Because of the platform's extreme flexibility, you can create any type of portfolio you like with no restrictions on style. Furthermore, Siter.io provides SSL certification and secure hosting, guaranteeing the constant safety and security of your website.
How to Choose the Right Website Builder for Your Portfolio
To choose the best website builder for your portfolio, consider your specific needs, skills, and the type of work you wish to display. Take advantage of free trials to explore and test the platforms before making your decision.
Tips for Designing an Outstanding Portfolio Website
When designing your portfolio website, pay attention to layout, visual elements, and user experience. Highlight your best work and keep the design clean and clutter-free.
Promoting Your Portfolio Website
Once your portfolio is ready, promoting it is crucial. Share it on social media, network with peers, and use search engine optimization (SEO) techniques to increase your visibility.
In conclusion, having a professional portfolio website is essential for creative professionals. With the variety of free portfolio website builders available, creating an impressive online showcase has never been easier. Whether you're an artist, photographer, or designer, these platforms offer cost-effective solutions to help you stand out in the digital world.
FAQs
1. Are free portfolio website builders really free?
Yes, the builders mentioned in this article offer free plans, allowing you to create a basic portfolio website without any cost.
2. Can I customize the templates on these platforms?
Absolutely. Most free portfolio website builders provide a range of customization options to tailor your portfolio to your liking.
3. Is it necessary to have web design skills to use these builders?
Not at all. These builders are designed to be user-friendly, so even beginners can create professional-looking portfolios.
4. How can I promote my portfolio website effectively?
Promoting your portfolio involves sharing it on social media, networking with your peers, and implementing SEO strategies to increase visibility.
5. Can I switch to a paid plan if I need more features?
Yes, most free portfolio website builders offer paid plans with additional features and benefits if your needs evolve over time.